!- /*********************************************** * Smooth Navigational Menu- (c) Dynamic Drive DHTML code library (www.dynamicdrive.com) * This notice MUST stay intact for legal use * Visit Dynamic Drive at http://www.dynamicdrive.com/ for full source code ***********************************************/ -->

What is a Tilt-up wall?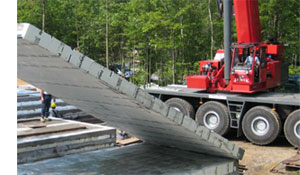 Tilt-up is a construction technique to build reinforced concrete walls horizontally prior to lift them up with a crane.
In order to build a wall section, a Polycrete® Tilt-up formwork is first made-up on the ground. The bottom of the formwork is made of Polycrete® insulating panels. Openings (doors, windows, services) are considered while the Tilt-up wall section is built, prior to the pouring of concrete. Anchors are also installed in the different tilt-up wall sections, based on needs and specifications to (i) lift the wall sections with a crane, (ii) to temporally support the sections and (iii) to mechanically join sections.
Tilt-up constructions are mostly popular for commercial and insdustrial buildings. But the residential market is gaining new adepts over the years.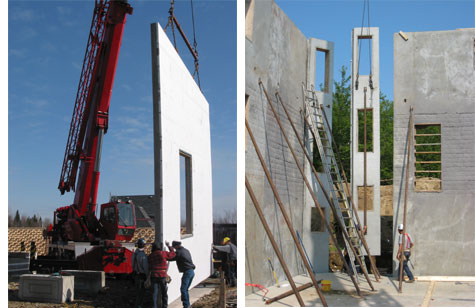 Benefits
Competitive cost and value: Tilt-up constructions have demonstrated repeatedly to be a cheaper method than conventional ones.
Speed of construction: Once the footing is in place, the timeframe between the construction of the tilt-up wall sections and the lifting is fairly short.
Efficiency: A tilt-up wall is already insulated on the exterior side and represents energy savings also due to its high thermal inertia.
Safety and durability: A tilt-up structure gives solidity and durability as well as safety with an increased resistance to fire.
Versatility: Tilt-up buildings can be of any sizes and for different purposes. Also, a vast choice of interior and exterior finishing is also possible. For instance, it is possible to stamp the concrete on the interior side, hereby combining aesthetics and durability.